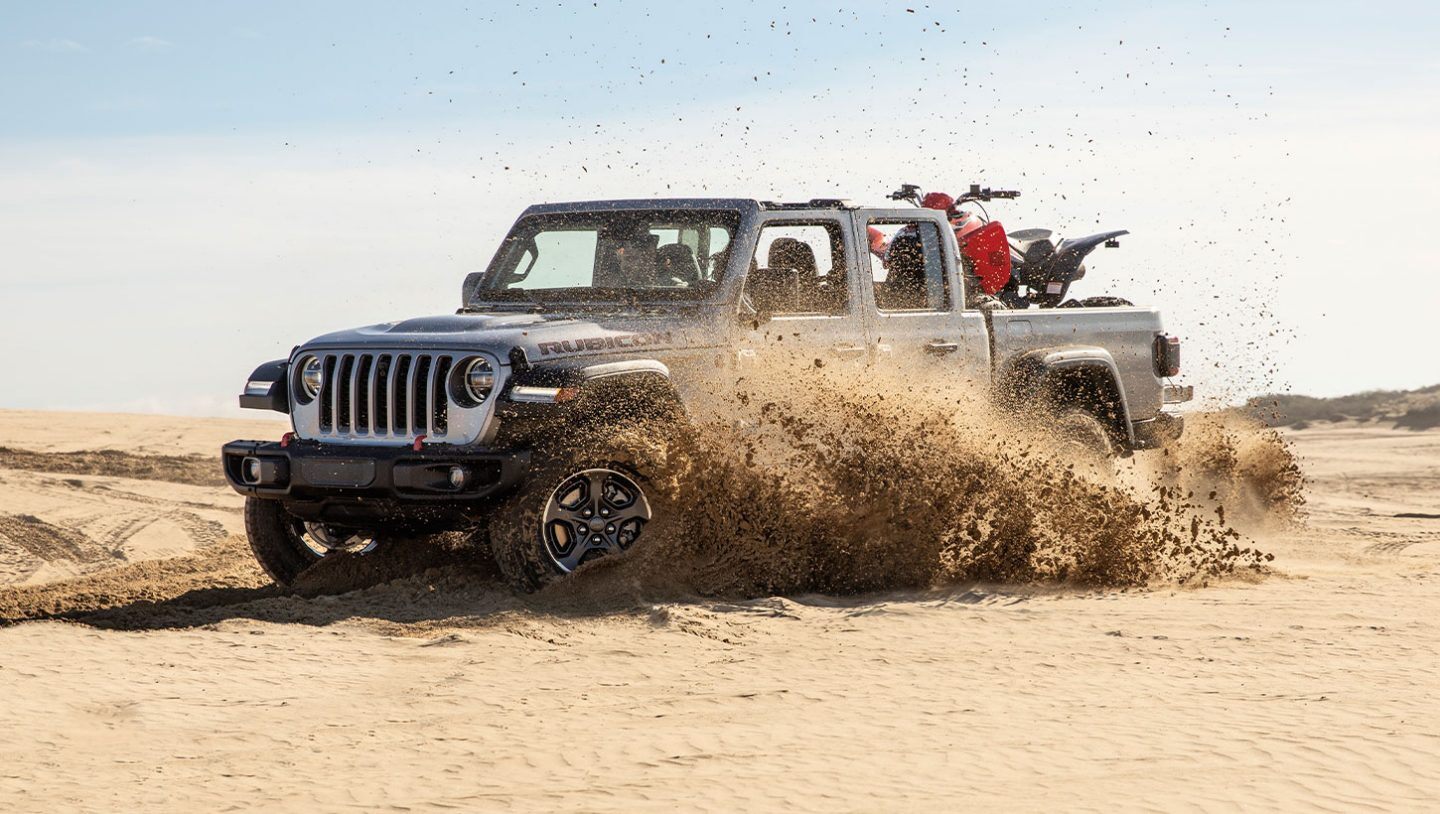 Two much-loved FCA brands - 2020 Jeep® Gladiator Rubicon and 2020 Ram Power Wagon - have been chosen as deserving winners of The Fast Lane Truck (TFLtruck) 2020 Gold Winch awards in each of their respective categories. Both models captured unanimous approval of the selection panel after impressive performances in the grueling evaluation process. Auto Plaza Chrysler Dodge Jeep Ram Farmington offers the widest range of Lease Specials in Farmington, MO.
2020 Jeep® Gladiator Rubicon Wins Best Mid-size Off-Road Truck Title
The latest version of the Jeep® Gladiator Rubicon was particularly noted for two attributes: off-road capabilities and the freedom of top-down doors-off outdoor adventures. Plus points such as the exclusive suspension system, locking front and rear differentials and 12,000 lb. winches were lauded. While the Jeep® Gladiator Rubicon may be classified as a truck, it still retains elements of iconic Jeep® styling that makes it an unmissable member of a top-selling sports utility vehicle brand.  Fans will love the familiar keystone-shaped grille, square tail lamps and fold-down windshield. Looking for a Jeep® Dealership? Auto Plaza Chrysler Dodge Jeep Ram Farmington has a top inventory of bestselling Jeep® vehicles. 
2020 Ram Power Wagon Hailed Best Heavy Duty Off-Road Truck
The newest Ram Power Wagon was favored for its improvements in off-road dynamics - capabilities as well as the equipment it offers consumers. The model's suspension flex and selection of trim levels were two highlights that drew particular attention. The model is driven by a 6.4-liter HEMI V-8 engine featuring VVT with Fuel Saver Technology cylinder deactivation that is mated to a unique suspension system.  Other engine options include: 6.7-liter Cummins Standard-Output Turbo Diesel and 6.7-liter Cummins High-Output Turbo Diesel.  Auto Plaza Chrysler Dodge Jeep Ram Farmington is a Ram Dealership where you will find the widest range of well-made trucks.
For the best lease deals near Fredericktown, MO, make sure to visit Auto Plaza Chrysler Dodge Jeep Ram Farmington.